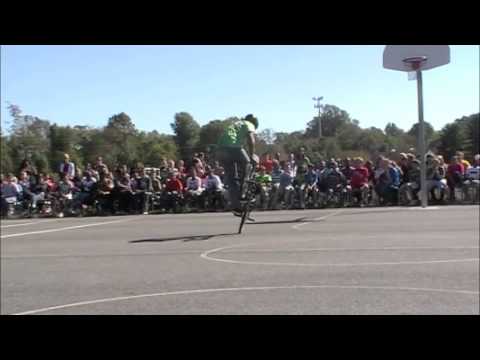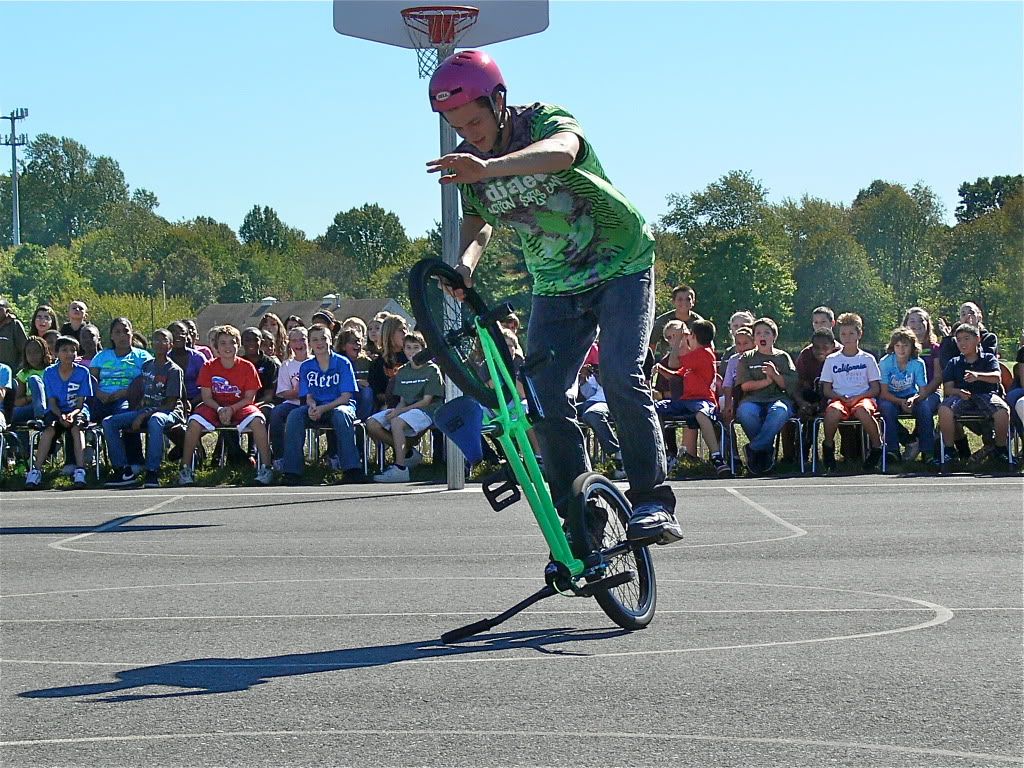 A Flatland BMX Show is an excellent source of entertainment for your up-coming special event, or BMX School Assembly program Our professional BMX riders will be performing some of the hardest tricks in the sport of Flatland BMX riding. You will witness the quick movement, fast spinning, and incredible balance on one wheel, from our flatland BMX show. This is a show that is sure to have your audience saying Wow! I never knew that was possible on a BMX Bike. As we say in the show business the louder you are, the bigger and faster we go. We make sure to hype up your audience, get them involved and keep them entertained from start to finish. This is a non-stop, action-packed BMX Show.
.
Our Flatland BMX Show is also more economical then our ramp show which is great for schools or events that are on a tight budget. Don't be fooled though, our Flatland Show is still an exceptional show and we guarantee satisfaction. As our BMX Ramp Show this show type can also provide inspirational messages for school assemblies. We thrive on Bicycle Safety, Drug Awareness No Bullying, and Responsible Choices. Feel free to fill out our quick Booking Inquiry Form for your next event or school assembly. Also, make sure to check out our schedule to see if we have your date available. If we are booked on that date, please contact us as we have several teams to perform shows. You also email us or call us at (814) 280-0299.
.
ALSO: Simply find a neighboring school to book a BMX Stunt Show on the same day as your scheduled performance and we'll deduct $100.00 off your school and the school you found to book us. That's $200.00 for making one simple phone call.
Here is a look at what a Flatland Show can have:
.
We can perform up to 4 shows, per day.
Each show will last up to 30-40 minutes.
Each show will have 2-4 professional athletes.
We will have 1 charismatic announcer.
We provide a PA sound system with clean music.
Our BMX Stunt Team also carries a 1 million dollar insurance policy.
We do provide discount pricing for multiple days of booking.
.
Space Requirements: (indoor or outdoor events)
Ground Space 40′ feet wide by 60′ feet long
Performance area must be on a hard, level area, such as asphalt, concrete, or gym floors
Viewing space for spectators
Proper lighting for night time shows
All performance areas MUST BE BARRICADED OFF to protect everyone.
We do require access to a 110 electrical outlet. (for our sound system)
.
Performing BMX Bike Stunt Shows at:
Schools Assemblies
Fairs & Carnivals
Festivals
Car & Motorcycle Shows
Corporate Events
Youth Organizations
Sporting Events & Competitions
.
Why Hire Team Dialed's BMX Stunt Show for your next event?

Having professional entertainment at your event should leave a lasting impression with your audience, long after they leave. With over 70% of our clients requesting us to return to their events year after year, we guarantee that the job will get done right. Our BMX stunt team is dedicated to professionalism, respect, and hard work.

Please view our testimonials page to read some wonderful feedback from our past clients.